Free WiFi
Our Waiting Area now offers Free Wifi! Just connect to Sheehan Vet Guest.
Password is: sheehanguest
Full Services Available

-Surgery and Dentistry
-Lab Studies

-Veterinary Pharmacy (We also ship prescriptions!)

-Preventative Medicine

-Prescription Diets

-Diagnostic Imaging (Ultrasound and X-Ray)

- ID Microchip for permanent pet identification

-Veterinarian Supervised Grooming
(Sedation available for nervous pets)

-DNA Testing Available
(Determine you dog's breed!)

-New Digital X-Ray machines. Designed to be much safer and 
pet friendly! Our X-Ray room has also been remodeled!
General Information
Please phone in requests for Medication refills and prescription diets at least 24 hours before expected pick up. Please note, that if requesting a prescription be mailed to you, please allow for an additional 3 to 5 business days for delivery.

Requests for written or faxed prescriptions from outside pharmacies will only be honored if your pet has been seen within the last year and your pet has been heartworm tested within the year, if requesting heartworm prevention.

To protect your pet, Prescriptions and prescription diets are NOT RETURNABLE.

All patients being admitted to Surgery, Dentistry or Grooming must be up to date on their wellness exam, vaccinations and parasite testing.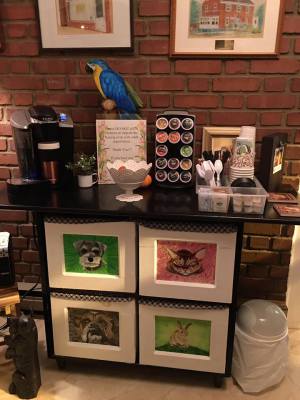 Refreshment Station
Please enjoy our complimentary refreshment station when you come and visit!